Ariki

3

2

1

127m²
We have an Ariki underway at present, being built for a client, but you are welcome to walk through this home if you wish.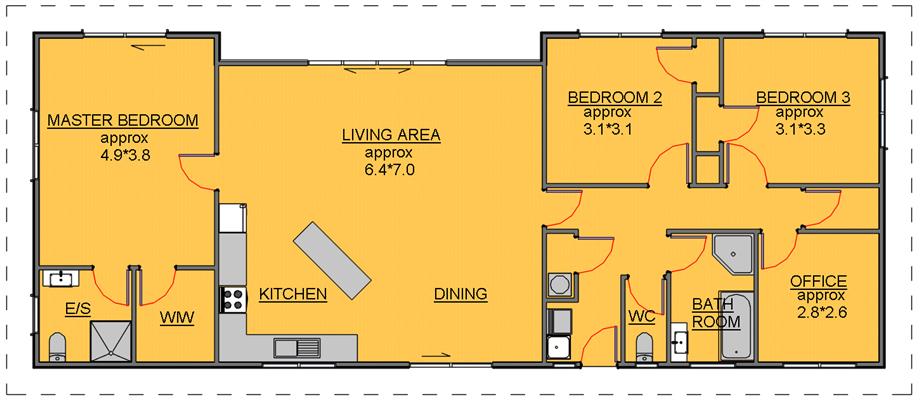 Features
Waipa District Council Building Permit, Plans & Specs Provided Plans, Spec & Calculations Supplied for Receiving Council. Engineers Report Not Included
Timber subfloor as per NZS 3604:2011 - Foundations are based on level of site to NZS 3604:2011
Hardies 180 smooth weatherboard or Hardies axon panels
20mm Particle Board Flooring
Long run coloursteel corrugated iron or styline profile
Tasman powder coated double glazed aluminium joinery if applicable front door will be powder colour coated to suit
Windsor Futura Apex lever range
Pre-Hung Hume Primecoat MDF Flush in Slimeline Jambs & Doorstops - Grooved style optional
Elephant 10mm Plasterboard & Elephant 10mm Aquaboard
60mm FJ Bevelled Edge & 60mm FJ Pine Architraves
16mm White PBD / Lumberlok Closet Rails / 112x18mm FJ Pine Slats in H.W.C
Acrylic Shower Unit - Size & Shape Dictated by Plan
FreeStanding BTW Fiberglass unit
Ceramic topped Units, supplied & Installed - Wall Hung or Floor Mounted
Prime Melamine or Bestwood Meltecca, Water-Resistant Carcases
Prime Laminate or Formica Range
Bosch Electric Freestanding With Ceramic Cooktop
Bosch Electric Underbench Oven
Bosch 4 Element Ceramic Cooktop
Bosch Powerpack Extractor or Rangehood
Electric 180L Mains Pressure Cylinder
Fit-Out Complete Using Led Lighting. Meter Box Included
Completed And Tested (No Site Connections)
Request a Quote
Interested to know more about this home? Contact us below to start your build today.
Get in touch